Flat Stanley goes racing
Posted 04/07/2011 - 19:19 by trunk37
Flat Stanley came to visit me last week right before I was getting ready to go to Saint Augustine, Florida to race in an autocross. I asked him if he wanted to go along and since he had never been to an autocross and didn't know what one was he would love to go along.
I explained to him that an autocross was a race where one car at a time races on a course marked out with traffic cones. They usually are held in big parking lots but the one we were going to was at a drivers training school for police and firemen.
We headed south and when it came time to get gas we got off the highway and saw a gas station called Hess. Flat Stanley said the name of one of the teachers he knew in Newell had the last name of Hess too so he wanted to stop and get his picture made.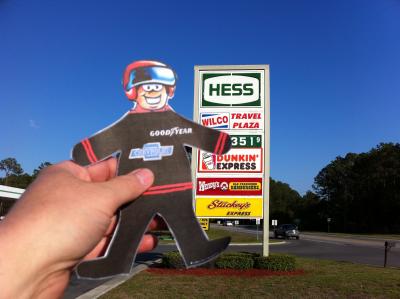 Flat Stanley at Hess Gas Station: Flat Stanley stops at gas station in South Georgia on his way to race in Saint Augustine.
We continued on and finally made it to Saint Augustine, Florida. Saint Augustine is in Northeast Florida and is the oldest city in the United States. It was founded in 1565. It is almost 1400 miles from Saint Augustine to Newell, Iowa. If you wanted to drive there it would take you about 24 hours.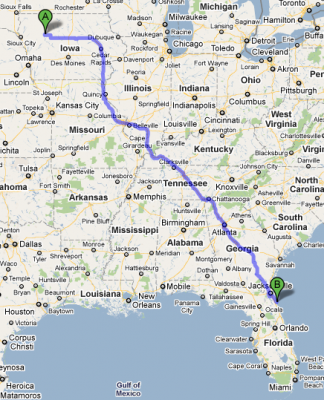 Map Saint Augustine, Florida - Newell, Iowa
The next morning we head out to the track to race. In the morning was a practice. Flat Stanley posed with my race car before the practice.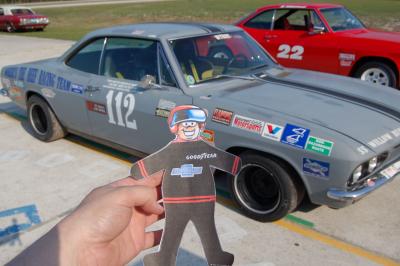 Flat Stanley with Corvair: Flat Stanley poses with Corvair he will be racing in.
My race car is a 1965 Chevrolet Corvair. It is probably older than your parents. It has an engine in the back where most cars have a trunk and a trunk in the front were most cars have an engine. Before going out for practice Flat Stanley wanted to sit in the drivers seat and pretend he was driving. I helped him in and then put on the racing belts to keep him strapped in the seat.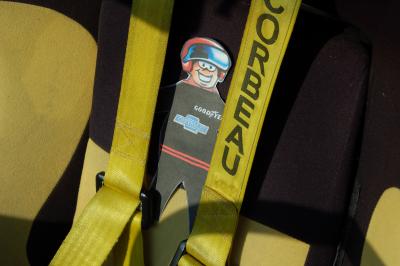 Flat Stanley puts on belts: Flat Stanley puts on racing belts to get ready to race in a 1965 Corvair.
We then headed out on to the course to practice for the afternoon race. Flat Stanley decided to jump up on the windshield so he could see better. Here is a video of Flat Stanley during the practice.


After the practice Flat Stanley went over to visit with the people who running the timing equipment. They time every drivers lap and right them down so they can find out who has the fastest time.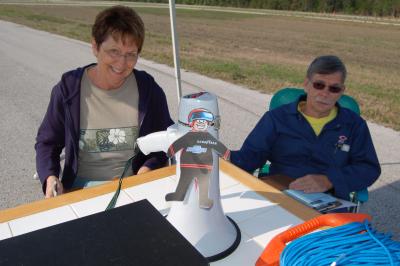 Flat Stanley visits with the timing and scoring workers: Flat Stanley visits with the people who keep track of the times of each cars run.
Practice was over at noon and it was time for lunch. We went over to where they were selling lunch and Flat Stanley ran into two of his old friends. He went on adventures with them years ago at their schools. They were selling food to raise money for a group that they were members of. Flat Stanley posed with them before we ate lunch.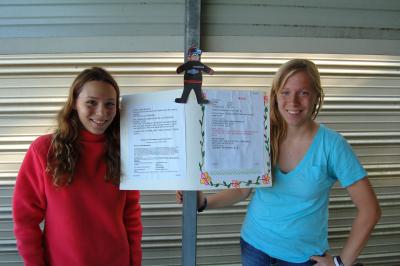 Flat Stanley with Girls: Flat Stanley visits with some friends he met at another school. The girls were selling lunch as a fundraiser for a group they belonged to.
After lunch Flat Stanley saw a bunch of people getting into the back of a truck and wanted to know what they were doing. I told him those were the course workers. They put the cones back up if somebody knocks them over and they have a red flag in case they need to stop the race. They also have radios to call the timing people to report that someone knocked over a cone since that results in a penalty for the driver. You don't want to knock over a cone.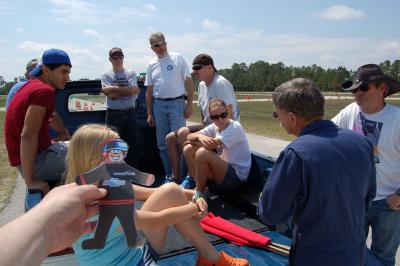 Flat Stanley visits with course workers: Flat Stanley visits with course workers at autocross.
During the afternoon race Flat Stanley joined the other fans to watch the races.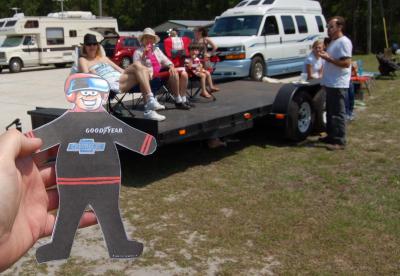 Flat Stanley watches races: Flat Stanley watches the races with some of the other spectators.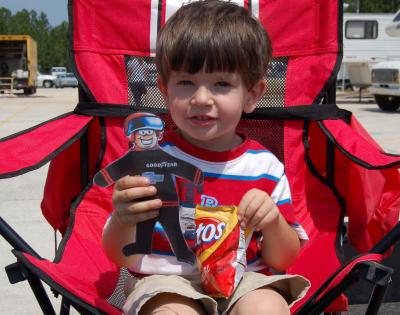 Flat Stanley watches races with boy: Flat Stanley visits with a new friend while watching the races.
The races were finished for the day and Flat Stanley and I were both hungry so we went to Schooner's Seafood House. Since Saint Augustine is on the Atlantic ocean there are lots of seafood restaurants there. A schooner is a large sail boat. There was a painting of a schooner on the sign out front so Flat Stanley had me take his picture with it so he would remember what a schooner looked like.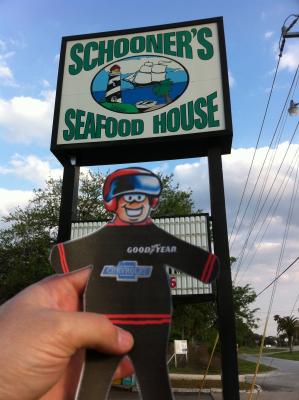 Flat Stanley goes out to eat: Flat Stanley goes out to eat at Schooner's Seafood House.


That was the end of our racing adventure in Saint Augustine, Florida.
Scott Trunkhill